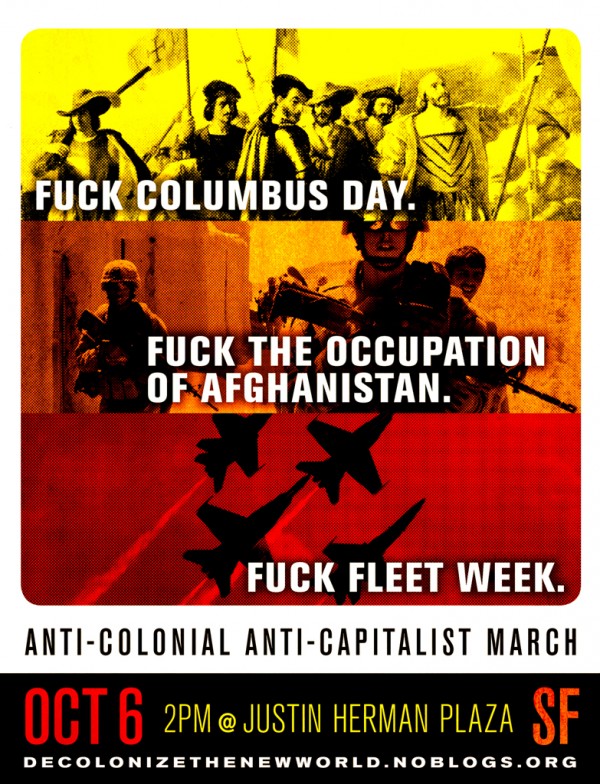 Columbus Day 2012 marks the 520 year anniversary of the genocidal and ecocidal project of Empire building and colonial expansion that began with the conquistador invasion of this continent and continues to this day through the daily violence and exploitation of global capitalism.  That weekend also marks the 11 year anniversary of the US invasion of Afghanistan, a brutal example of contemporary colonialism.
This year during Columbus Day weekend, a West Coast Anti-Colonial, Anti-Capitalist convergence is being organized in the Bay Area.
Scheduled over the weekend are a Day of Action Against Mexican, US & Canadian Consulates; a West Coast Anti-Colonial, Anti-Capitalist March; a protest on the 11th Anniversary of the US/NATO War in Afghanistan; and a presence at the East Bay Regional Parks District Public Forum in Richmond to demand that indigenous people have control over their land and sacred sites.
Oct 5th, 2pm, Montgomery Bart – SF: Day Of Action Against Mexican, US & Canadian Consulates
Oct 6th, 2pm, Justin Herman Plaza – SF: West Coast Anti-Colonial, Anti-Capitalist March
Oct 7th, 6pm, 14th and Broadway – Oakland: 11th Anniversary of the US/NATO War in Afghanistan
Oct 9th, Richmond: Protect Sacred Sites – Presence at East Bay Regional Parks District Meeting
Read More: http://decolonizethenewworld.noblogs.org/
and on Facebook: http://www.facebook.com/events/270496453069601/
41120