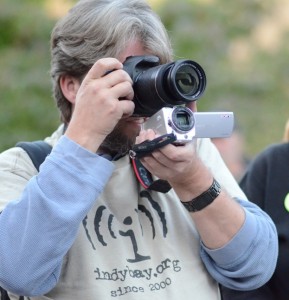 "Indybay Journalist Wins Payment and UCB Agreement to Change Policies, Train Officers
David Morse, a veteran independent journalist and long-time member of the San Francisco Bay Area Independent Media Center (Indybay) has settled his lawsuit over the University of California – Berkeley Police Department's (UCBPD's) improper arrest, imprisonment, and seizure of journalistic materials during a student demonstration he was covering as a journalist. In exchange for Mr. Morse's agreement to dismiss the lawsuit, the University of California Regents have paid $162,500 and have agreed to modify UCBPD policies and procedures regarding acceptable means of seeking materials from a journalist or anyone possessing materials with an intent to disseminate to the public and have also agreed to conduct extensive training sessions for UCBPD officers regarding protections for journalists under federal and state law.
UCBPD officers arrested Mr. Morse while he was covering a demonstration on the UC-Berkeley campus on December 11, 2009. Mr. Morse was making news photographs of a march on the UC-Berkeley campus, in which some participants caused damage to the exterior of the Chancellor's house and other property, when UCBPD officers arrived at the scene. Mr. Morse identified himself as a journalist, and offered to show the officers his press credentials. UCBPD officers instead immediately detained and then arrested Mr. Morse and seized his camera, telling Mr. Morse that they wanted his camera because they believed it contained evidence of a crime. Mr. Morse was charged with attempted arson of an inhabited structure, vandalism, participation in a riot, attempted burglary, threatening a university official, and two counts of assault with a deadly weapon against a police officer. His bail was set at $132,500.
As part of this settlement, the UC Regents agreed:…"   for the rest of the story please visit: http://www.indybay.org/newsitems/2012/07/09/18717220.php
35931