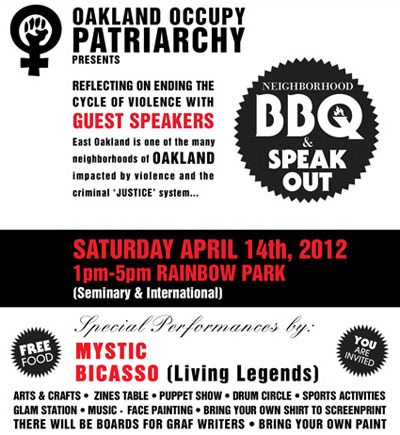 Where: Rainbow Park, International Blvd. & Seminary Ave., Oakland
When: Saturday, April 14, 2012, 1:00-5:00 PM
The cycle of violence that currently exists attacks poor people, people of color, and women, and is specifically designed to keep us weak so we will passively accept our place in society. They are frightened by the prospect of us coming together. We want to think about the attacks we face, heal and empower each other to RISE UP, and plan to fight back against all that oppresses us, including:
* cuts to schools, social services, and services for the elderly that put pressure on poor families, especially women and families of color
* city redevelopment plans that never benefit the poor
* higher costs for public transportation that confine poor people to their neighborhoods, where oftentimes there are fewer jobs
* low minimum wages that keep people at or below poverty, so it's a fight just to survive
* unfair sentencing and felony charges that lock people out of the job pool
* wages that remain low when we are desperate for jobs
* when wages are low, a lack of funds to support our families and ourselves that drives survival crime
* unjust drug laws, like three strikes, that lead to mass incarceration in private prisons
* the violence of the system that leads to increased domestic violence and street violence
* young women are pulled into forced prostitution
* racist policing and stereotypes of people of color that keep the public in fear and are used to justify ongoing intense policing and incarceration of people of color
…to TRULY end this cycle of violence, people need to RISE UP and take over this city and all cities — and to rise up, EVERYONE needs to come together, to talk, learn from one another, and think about how to make this a better world.
http://oaklandoccupypatriarchy.wordpress.com
27325