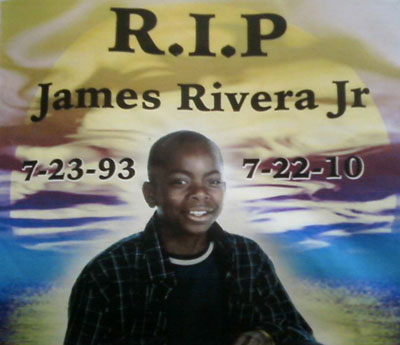 from the Oscar Grant Plaza Gazette
On Tuesday, surviving family members, the Oscar Grant Committee, Occupy Oakland, and the Stockton community will rally and march for James Rivera, Jr., a 17 year old boy who was brutally murdered by Stockton police in July 2010. Rivera's parents are calling on all citizens concerned with the alarming epidemic of murders by police to come out for a rally, free lunch, and march to demand justice. The rally will convene at 2:00 at the Stockton Courthouse at 222 E. Webster. After the rally, a free lunch will be provided before the 4:00 – 6:00 protest marches to the Stockton City Hall. Buses will leave from Oakland's Oscar Grant Plaza at 11:30 and will bring protesters back in the early evening.
Read full article on Oscar Grant Plaza Gazette.
27317