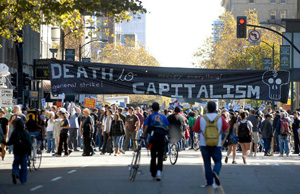 On Leap Day, use your extra day to attend a funeral for capitalism, which will include a eulogy, procession through the streets with a New Orleans style brass band, a burial, and dancing on the grave to follow.
We invite you to join us at 6:00 PM at Oscar Grant Plaza (14th & Broadway in downtown Oakland) for a funeral procession through the streets to an undisclosed gravesite.
Funeral attire suggested.
Bid farewell to a system that brings us meaningless jobs, billionaires, shopping malls, structural poverty, and ecological collapse. May it roast in hell or rot in peace. Let's resurrect a world of cooperation, justice, pleasure, and beauty from its moldy bones. Don't mourn, organize!
Sponsored by the Crafts and Insurrection Convergence & Leap Day Action Night.
http://www.leapdayaction.org/event/funeral-capitalism
21290