SPEAKOUT AGAINST POLICE VIOLENCE IN OAKLAND
At the Oakland General Assembly on Thursday, October 27th, the proposal passed to hold a Speakout Against Police Violence in Oakland. Since protests erupted against the murder of Oscar Grant, the OPD has been stockpiling so-called "non-lethal" weapons. Last week police used them against Occupy Oakland, and now former Marine, Scott Olsen, is in a coma with a fractured skull. Say NO to OPD!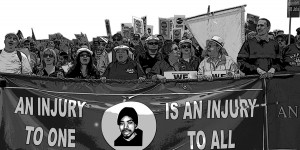 When: Saturday, Oct 29 –  6:00-8:00PM
Where: Oscar Grant Plaza – 14th and Broadway.
Open Mic!
Speak. Listen. Act.
*Fliers attached. Print and DISTRIBUTE WIDELY!

Sponsors: The Oakland General Assembly, The Oscar Grant Committee Against Police Brutality & State Repression, Bring the Ruckus, Raider Nation Collective, Berkeley Copwatch
2114